Enjoy your holiday in Czech Republic - Beskydy - Dolní Bečva and surrounding area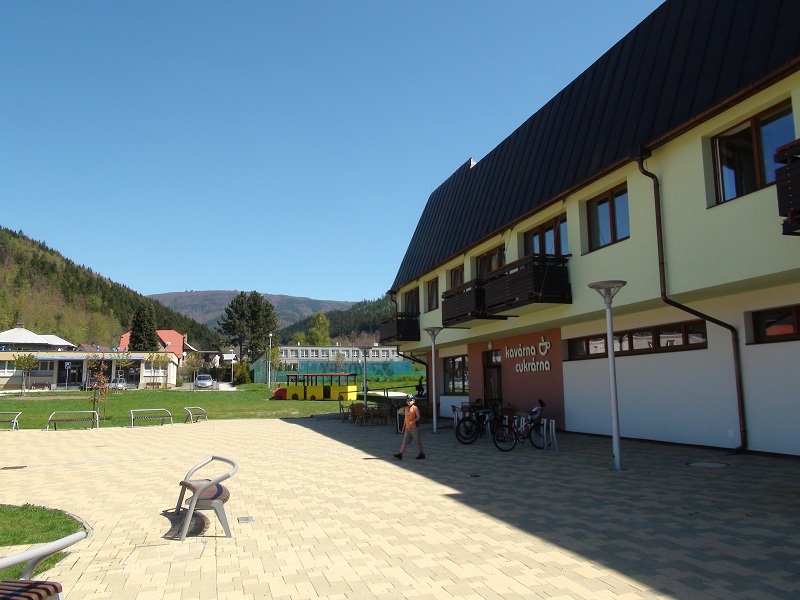 Block of apartments-Dolní Bečva More picturess... Come and enjoy your holiday in beautiful scene of Beskydy on the upper stream of river Bečva and foot of Radhošť mountain (1229 m). There is seventh highest mountain of Moravskoslezské Beskydy and his westernmost thousand. According to fame, pagan god Radegast - God of sun, war and Victory, had the seat on the Radhošť.

See mountain residence Pustevny also (1018 m). His name is after hermits (poustevnících) which lived here. The last one died in y 1874. Pustevny belong to important Czech tourist centers. Do not miss this unique atmosphere.

Soláň, heart of Valašsko. Soláň is from of old considered as the most beautiful part of Valašsko district. Soláň belong to inhabited hills what is really curiosity today. The hill is 860m high. From the top you will not resist a beautiful panoramic views. On the one side Javornik range on the opposite side Radhošť solemnity, continue Beskydy range up to Lysá hora. On meadows and cutting areas blooms rare herbs from gnat-flower to gentian. Do not miss so unique experience.
Location and surroundings
Dolní Bečva is 5 km east of the Rožnov pod Radhoštěm, well-known mainly thanks to Valašské museum in nature. Dolní Bečva is mentioned for the first time in the Chronicles of archive year 1597, becomes a separate municipality for thirteen years later. The village is relatively large, and it is located on the upper stream of Rožnovská Bečva and lies at an altitude of 427-800 m. The whole area is well-known for its many opportunities for sports and recreational activities for adults and for children. The ideal position of the Dolní Bečva allows you to operate your activities in spring, summer, autumn and winter too.
We offer luxury accommodation
Kitchen unit More pictures... You can travel through Beskydy mountains and their surroundings, and go back to the pleasant environment of the apartment, which we offer you for rent throughout the year.
A separate residential unit on two rooms with kitchen (2 + KK) is located in a newly built block of flats House, newly constructed in 2012. The accommodation is ideal for a family with children, or for 4 adults.
All equipment including furniture is brand new. Entrance to the apartment is isolated, entrance with wardrobe, hangers, separate bathroom with bathtub toilet with basin, located separately. Kitchen unit is equipped with everything necessary for the preparation of food - refrigerator with refrigerated boxing, inductive hot plate, warm air oven, microwave oven, boiling Kettle, crockery, ... The living room is equipped with new furniture, fold-out sofas, which also can be used to sleep 2 persons. There is an LCD TV and a radio. Bedroom-is equipped with new furniture-twin beds, cabinets with storage space. Heating all rooms is by using electric radiator and then you can set the mode of the temperature according to your own needs. Balcony is equipped with a table and two stools allow you to drink your cup of café or tea or glass of wine on the air without leaving the apartments.
Some tourist, sports and leisure suggestion for your holiday on Dolní Bečva
For your inspiration, how you can spend the holiday in an apartment here on the Dolní Bečva, here are just a few selected Tips for spring, summer, autumn and winter.
Spring
Bicycle road Bečva More pictures... The spring months directly are encouraged to explore the surroundings, for example, with the help of a bicycle or also as on-line skates. Come through the Valley of the Rožnovská Bečva after bicycle road "C1 CYKLOZTEZKA BEČVA". Runs from the Horní Bečva to the Valašské Meziříčí and measured less than 33 km. Section of this bicycle road is all among the most modern bicycle road in the Czech republic. You have the chance to connect to the road at Dolní Bečva and go for example to the Rožnov pod Radhoštěm. The distance after bicycle road is about 6.5 km and the trail leads off the main road in a beautiful surroundings of Bečva River. You can easily route runs slightly downhill. If you didn't want to walk back up the hill, you can use from May to the end of September on Saturdays, Sundays and public holidays Cyklobus . (tel. 571 757 503). The route may also use mothers boldly with a perambulator, travelers, tourists, and even cross-country skiers in the winter.
Back
Cyklo road profile
Summer
Open air pool in Rožnov p. Radhoštěm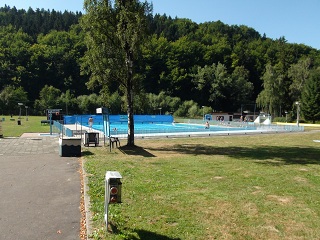 Open air pool in Rožnov More pictures...
Attraction for children More pictures... Summer here on the Dolní Bečva and surrounding area offers a wide variety of activities already mentioned from both the autumn section, and spring section and many more. In the summer is definitely the best activity seems to be swimming. A swimming area in Rožnov pod Radhoštěm is located less than 5 kilometres. You can go to it by car, use the bicykle road on a bike, go by bus or walk for fitness. Sports complex offers nice bathing , in addition to also many attraction for children.
Golf course
Golf course Dolní Bečva More pictures...
Golf course More pictures... And what about golf. Less than 3 km from the apartment is situated Valašský golf club. Golf course of the Valašský Golf Club is public and is also available for novice golfers who play without a green card. The Golf court is, however popular among the skilled golfer too.
Dam Horní bečva
Zvětšit mapu
Less than nine kilometers from the accommodation lies dam Horní Bečva. Is up to you whether you enjoy swimming, surfing, fishing, and other water sports.
Tennis courts
Tennis courts beside the apartment More pictures... Tennis courts are located right next to the apartment style house. Courts are accessible from 8 hours to 20 hours starting from May and ending the Tennis season, depending on the weather in November. If you want to use the courts, it is possible to arrange a telephone call: 606927362. For more information, visit the website of the municipality of Dolní Bečva.
Back
Autumn
Hiking around
Tourist's maps and bike roads More pictures... Autumn is ideal for hiking, but also for bicycling. The possibilities of using new bike road Bečva is already described in the activities that you can engage in to Spring. I'm sure you can also do many of the activities listed in the Sommer sections.
Directly from the accommodation you can go to the 9-kilometer tourist route to Radhošt. In addition, a beautiful reward will output the chapel of missionaries Cyril and Methodius, built in 1905. You are on the verge of the nature reserve and the fir- beech forest. Near hotel Radegast help you if you needed to extinguish dry or avidity. By a beautiful Ridge-type tour you can occur as far as to Pustevny. The path to the East will lead you around the statue of a Pagan God Radegast from 1931 as far as Pustevny.
Mushroom hunting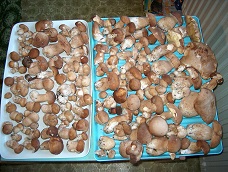 Fungi from area More pictures...
Mushrooms like from fairy tales Mushroom hunting here is a pleasure.
"A fungus is a member of a large group of eukaryotic organisms that includes microorganisms such as yeasts and moulds, as well as the more familiar mushrooms. These organisms are classified as a kingdom, Fungi, which is separate from plants, animals, and bacteria. One major difference is that fungal cells have cell walls that contain chitin, unlike the cell walls of plants, which contain cellulose. . It is known around 1 500 000 species of fungi around the world and about 10 000 species in the Czech Republic. " So much for mushrooms in Wikipedia.
Don't look at the mushrooms only in mushroom's atlas. For passionate fiery houbaře is here on the Dolní Bečva a real mushroom paradise. Come to convince themselves. Mushroom soup or fried mushrooms and eggs comes in handy after the daily walk of course.
Back
Winter
Cross-country skiing in Beskydy mountains.. More pictures...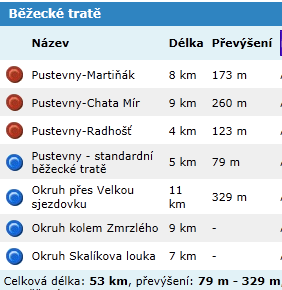 Příklad běžeckých tratí More pictures... Valašsko is favorit destination for winter sports. It noted that there is available around 50 ski areas. It can be used as for skiing and snowboarding but also for cross-country skiing or even skating. For example, the ski area Pustevny you can see directly from the window of the apartment, offers a wide range of winter sports options.
On the Pustevny you will find a total of 6 ski lifts with total length of 3.01 km from 33 m to 220 metres cross fall. Artificial snow is applied on total 2.62 km ski slopes. Total carrying capacity of lifts is 4100 persons/hour.
And the Pustevny you can reach from the apartment also by cross-country skiing...
Back
Map of ski resort Pustevny
More near skiresorts or actual weather condition see: HolidayInfo
Ski areal Pustevny
More pictures...
Ski slopes
More pictures...
Ski areal Pustevny
More pictures...
Back